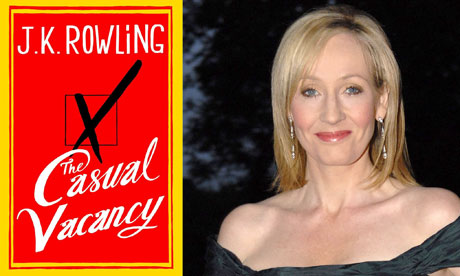 JK Rowling's new book (for adults) is out in September (woot-woot-woot-wooty-wooty-wooty!), but the Assistant Books Editor, Samir Rahim, of the Telegraph has said he is 'depressed'about how much attention it will receive

'

(admittedly, this was all said back in April, but if you read yesterday's post you will know why it's taken me a while to get with the program).
Rahim may be brave to offer any opposing views when there are so many Potter fans out there, and some of his points may be valid ones, but many of his arguments are very problematic.
First, he asks if anyone can really quote a line? Hello? "You may not like it minister, but you've got to admit Dumbledore's got style," or "it is our choices in life that show who we are far more than our abilities." I may never have gone to a Potter film premiere dressed in a cape, but it is apparent he never has either. Or even watched the news that night. Or even spoken to someone who has, which, given that hundreds of thousands who have done this, may mean he has been living under a rock. (By the way, it is a great tragedy of my life, that I have not made it to one of these film premieres, but that is not the point. The point is Rahim should meet these people, who quote Potterese like muggles have never existed).
Secondly, Rowling's characters are not as one dimensional or lacking as he seems to suggest. People want to BE them. Hermoine may be said to fit this catergory as supposedly she's perfect (but she LOVES RON WEASLEY. Really. She could do so much better.)
Yes, the way social media works and the way it promotes crappy works of literature may be depressing (50 Shades of Vom is an example of that), and this may mean an author gains "disproportionate attention compared to the quality of her work" but blame social media, not the book.
So, there may be better books than Rowling's, that should top the list, and seventeen-year-olds should read something else occasionally rather than re-reading The Order Of The Phoenix for the 25th time, but a world where no one reads because reading snobbery has taken over is a lot scarier, than a world where everybody reads the latest JK Rowling.
Rahim has some good points (for example, the problem of disproportionate attention). He is, after all, more well read than I will probably ever be. But come this September, A Casual Vacany will be causing great excitement in my tiny little life.
What about you?
Read or die!!,
Enid.